GET THE LOOK: MEGHAN MARKLE'S PINSTRIPE DRESS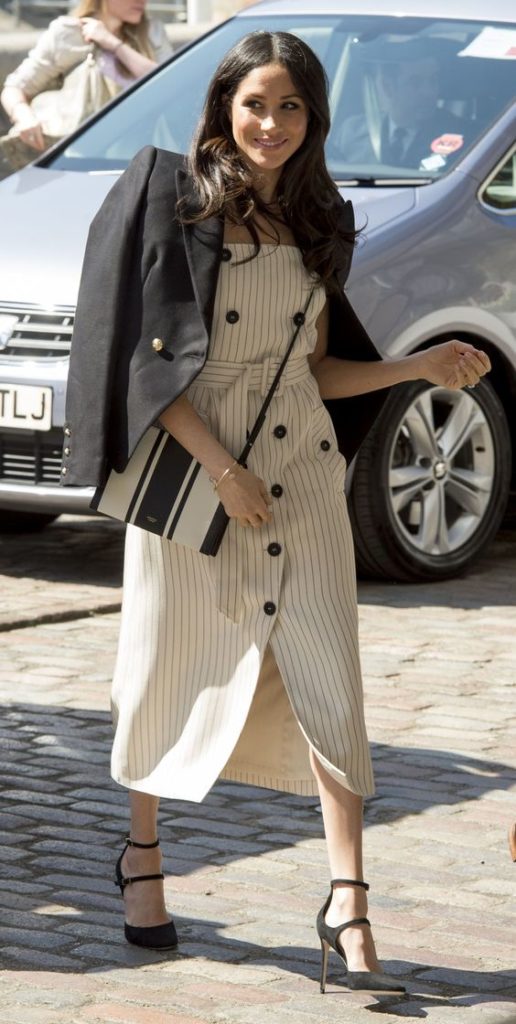 Lets talk Royal and the Disney fairytale that is the love story of Prince Harry and Meghan Markle. I usually don't keep up with the Royals too much, but just like the rest of the world, there was no way I was missing this wedding. Don't tell me you didn't get up early to watch it too…From the dress and Meghan's stunning presence, every single thing about Harry (love him), the Queen's attire, and the hot guest list, I didn't want to miss a detail. In honor of the wedding, I needed to do a blogpost about Meghan Markle and her impeccable style.
As you already gathered from countless sources and social media posts, her wedding dress was by Givenchy and her reception dress was Stella McCartney – timeless and simplistic. It comes to know surprise that her killer style translates to her everyday wardrobe…she is royal after all.
HER LOOK
Her style has elevated over the past year to a very sophisticated, classy chic look. Especially as a now-official duchess, her wardrobe choices reflect her title.
In April, Meghan worn this spring-appropriate look with a stylish pinstriped dress from Altuzarra ($1,995), a Camilla and Marc blazer ($699), Tamara Mellon heels ($475), and a Oroton bag ($221). This black and white ensemble is eye-catching and stylish, but for the total price tag, it's just not easily attainable. Her look totals $3,390.
GET THE LOOK FOR LESS
Pulling inspiration from this elegant look, I discovered pieces that are much more inexpensive and wearable for the summer heat. As I'm sure most of us won't be attending a royal meeting anytime soon, a wearable option is more suitable.
The pinstripe pattern, button detailing and waist belt makes Meghan's dress unique and distinctive – which also makes it difficult to find a duplicate. As an alternative, I found a breezy summer dress from J.O.A. that has a similar stripe print, buttons and midi length. These Steve Madden ankle strap heels are much easier to strut around in during the day with the chunkier heel. As for the bag from the brand Oroton, it's surprisingly attainable and is unlike any other bag I could find. She accessorized her statement look with dainty gold accessories.
SHOP HER LOOK
[show_shopthepost_widget id="3143058″]
I'm curious what you girls thought about Meghan's wedding dress…let me know in the comments below! As for Harry, it pulls at the heart strings knowing he's officially off the market. But hey, there's no one else quite suitable other than the goddess herself.