5 TRENDS I'M SHOPPING FOR NEXT SEASON'S WFH WARDROBE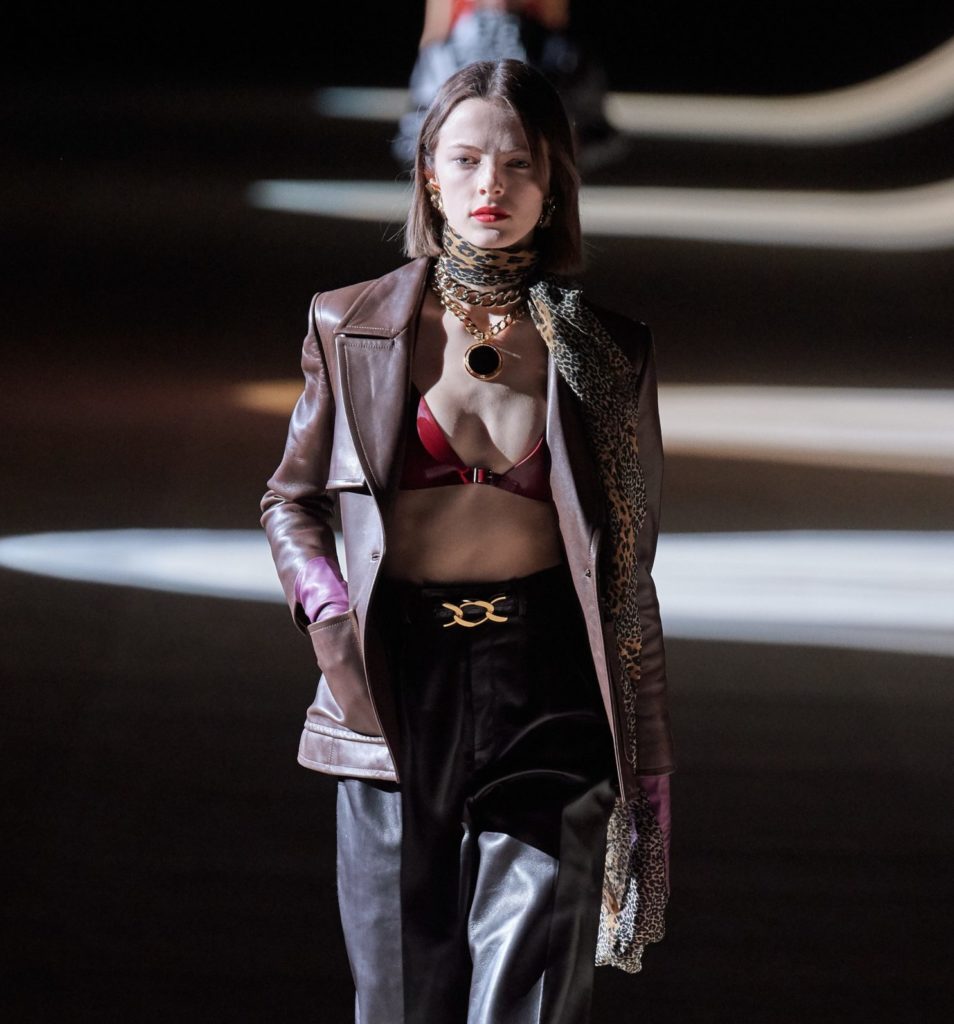 IMAGE YSL FALL 2020 RTW
Considering current events, your fall wardrobe might look a little different this year. As we all continue to social distance and work from home indefinitely, your collection of suit sets, structured blazers, and tall boots won't get as much wear as in year's past. Staying comfortable, yet presentable while taking team meetings virtually will define what pieces you add to your closet for this fall. "Office" appropriate attire, instead, looks more like a stylish sweater or oversize blazer paired with sweatpants.
Although Fall 2020 RTW showcased right before quarantine, a few key trends—once designed for a pandemic-free schedule—can still be incorporated into chic WFH outfits. When you finally do spend some time outdoors, these items are just as versatile for those in-person occasions when are ready to dress up. See the trends I'm shopping for my fall WFH wardrobe and one's you should add to your cart too.
GRAY SEPARATES
Creamy neutrals have been trending for a few years now as minimalist styles continue to be the new avante-garde. Even though beige is still everywhere for this fall, step it up a notch in monochromatic looks of grays. A cool mix of styles in shades ranging from light heather grays to ashier gray creates an unexpected ensemble that's modern for 2020.
ON THE RUNWAY:
KNIT BRA TOP
Ever since Katie Holmes was spotted in this cashmere bra by Khaite back in fall 2019, it's been the staple layering piece in and out of the house. Especially for summer, pairing a knit bra with other lightweight separates is the ideal loungewear ensemble to chill in. To transition as fall outerwear, style under a blazer for a subtly sexy, sophisticated look. For a more modest outfit appropriate for the work day, layer a long-sleeve shirt underneath.
ON THE RUNWAY:
OVERSIZE SWEATER
Dressing in knits—such as a cardigan, chunky sweater, or sweater dress silhouette—are ideal to look meeting-ready while from the comfort of your couch. They're also amazing layering pieces that you can easily pair with either lighter or heavier fabrics.
ON THE RUNWAY:
OVERSIZE BLAZER
The modern tailored blazer embodies femininity in a way that is perfectly polished yet relaxed. Blazers cut oversize remains as the silhouette of choice go-forward; which is great news as they're incredibly flattering and versatile. For this season, you can expect to see blazers in many rich, earthy tones, cool patterns, and luscious fabrics.
ON THE RUNWAY:
PLAID COAT
Plaid has always been in for fall and winter, being showcased year after year in various iterations that always make it feel new. Still very relevant for this season, designers have reinvented the otherwise classic print in bold tartan, eclectic colors, and unconventional patchwork. F/W 2020 even blessed us with complete head-to-toe looks in mismatched plaid that's daring, but so chic.
ON THE RUNWAY: